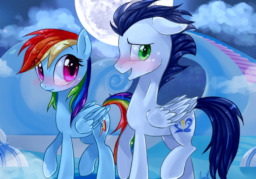 Rainbow Dash, now a wonderbolt, is practicing her flying one night. Her close friend/teammate Soarin sees her alone and decides to accompany her. The two pegasi talk about their interests, they both realize that they have a lot in common. They even went through similar situations during their previous lifetimes.
But, something is bothering Soarin. For the longest time, he has a huge crush on Rainbow Dash, ever since she won the Best Young Fliers Competition two years ago. He's afraid to tell the mare how he feels about her. But Soarin tells himself to stallion up and tell her how he feels. Still, he's too nervous. He realized that confessing his feelings to the mare he really liked was going to be hard for him. But, he tries.
Will he finally tell her about his feelings? Will Rainbow return his affections?
Character(s):
-Soarin
-Rainbow Dash
-Fleetfoot
I do not own the cover art.
Author Note: To make your understanding clear about my writing, I do not always feature romance in the stories I write. Since it's difficult to write about Romance, I'll try my best to make the actions of the characters as sappy as possible (if needed).
Inspired by the song To the Sky by Owl City.
Chapters (1)