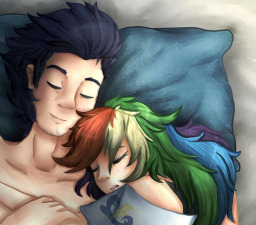 THIS IS A REMAKE OF NIGHTGLIDER SHIMMER'S STORY One Mistake Can Lead To Pain! I MEAN NO HARM AND PLEASE LET ME KNOW IF I DO ANYTHING WRONG! THANK YOU!
Ok that's out of the way, I absolutely love these stories and (even though this was about 2 years ago) I would love to rewrite them and fix errors. Also I want to finish the second one. Anyway, on to the description:
---
After Rainbow and Soarin went on another date, Rainbow started getting severe stomach pains. When she goes to her friends to ask if they have an idea of what could be happening to her, what they tell her is to shocking, so she goes to the nurse at school to find out if it is true. What the nurse tells her makes her heart shatter into a million pieces. Rainbow will have to now go on an adventure called pregnancy. And how will Soarin react to Rainbow telling him that he is going to be a father?
Chapters (8)