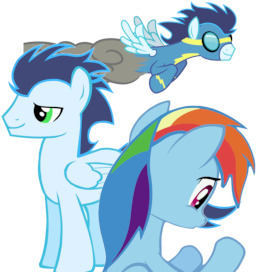 The Wonderbolts are debuting a new show in the skies of Ponyville. Rainbow Dash is ecstatic to see a performance up close and personal. But when she is left speechless by their unbelievable techniques, she begins to question her chances. Lost in her thoughts, a very unexpected surprise throws her life into a roller coaster. A story of staying true to yourself and knowing when to listen to your heart, even if it isn't the logical choice.
Featuring art by: lortstreet54, shad0w-wo1f!, PenumbraGlow0290 Deviantart: bonnama, colorstirkeand rulette, Astrum
Also a small animation in chapter 2 by: HarlenBooks
This story has not been fully edited yet, i apologize for anything sloppy.
Chapters (4)