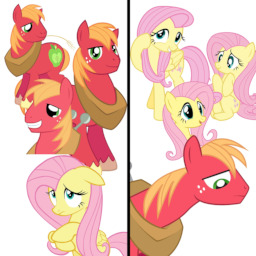 This story is a sequel to Soft Spoken With a Big Heart
---
Takes place during the events of Head in the Clouds.
After the train wreck incident, both Fluttershy and Big Macintosh have developed a strong interest in each other. The problem is, they are both extremely shy ponies who barely speak out about anything. Two months have gone by and neither have been able to act on their feelings despite it being on their minds day in and day out. Is it possible for a relationship, or even just friendship to bloom if the two ponies in question are nearly incapable of voicing their thoughts and feelings?
A story of finding the courage to face your fears and make sacrifices for those you love. It's not important that you SAY how much you care. It's important that you SHOW how much you care.
Featuring in chapter art by: haselwoelfchen and goatlady1 (Her Deviantart Page)
This story has not been fully edited yet, i apologize for anything sloppy.
Chapters (9)