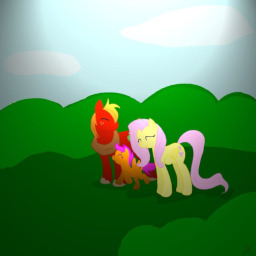 Source
At her lowest point, Fluttershy meets the most wonderful stallion, who helps her out. They eventually fall in love, get married, and have a foal. All they want is a life of quiet domesticity. Of course, given that they live in Ponyville, that probably won't happen.
Rated T for mention, but no descriptions, of sex and pregnancy.
Alternate Universe because of up-aged Fluttershy and Macintosh to avoid certain unpleasant things.
My first try at MLP fanfic, but not fanfic in general. Be as harsh as you want.
Chapters (4)