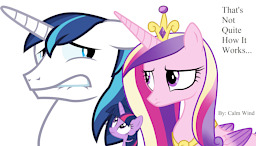 This story is a sequel to That's Not Quite How He Told It...
---
(Takes place right after the appearance of Shining Armor and Cadance in Piercing the Heavens, but there is no need to read the behemoth to enjoy this little short.)
Twilight Sparkle is feeling down, watching her friends find love while she remains alone. She begins to wonder if as the Princess of Friendship, that is all she's ever destined to have: Friendship. When Shining Armor and Princess Cadance come to visit, she agrees to let her BBBFF help on the matter!
And soon learns that she probably should have asked Cadance instead…
A story about longing and how searching actively for love seldom yields results. Love has a funny way of finding you.
Edited by: Kestrel
Featuring in chapter art by: eveyannie
Chapters (4)