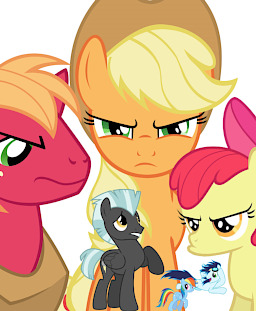 Sweet Apple Acres has finished a long expensive building project and a bright future is ahead. Too bad Thunderlane was careless and crashed into it, toppling it completely. Now he has to work to pay off the damages, but will he even survive two minutes in the Apple family work environment? Better yet, can the rest of the Apple Family keep Applejack from working him too hard? A story of accepting and carrying responsibility, and of knowing when to share the load. Stress can drive one to not act like themselves, and a little extra help can make all the difference.
Featuring fan art by: Angel Blossom, shad0w-wo1f!, and PhonicBoom
This story has not been fully edited yet, i apologize for anything sloppy.
Chapters (9)