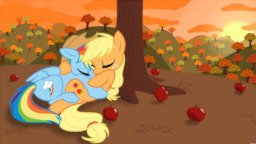 Source
Expand for links to audiobook versions of this fic.
Big Macintosh has always watched over his family, but sometimes watching over them means he learns things nobody else is supposed to know. What is he supposed to do with a secret that isn't his own, which clearly wasn't meant to be public knowledge?
Applejack/Rainbow Dash.
This fic now has THREE audiobook readings available from talented people who deserve your love and clicks!
Thelifeoncl0ud9: Full Cast Reading of Both Chapters!
Doctor Cobra: Chapter 1 Chapter 2
Chapters (2)