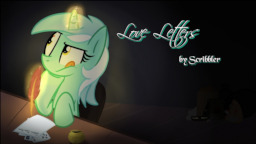 Source
When Bon-Bon has to leave Ponyville for a while to deal with a family crisis in Manehattan, Lyra writes her a letter every day. And every day, she gets a letter back. What could possibly be wrong with such loving devotion?
So why is everyone growing steadily more worried about her?
Written for the 2014 Friend-Off on EQD. Based on this picture.
Reviewed by Singularity Dream here.
Chapters (1)