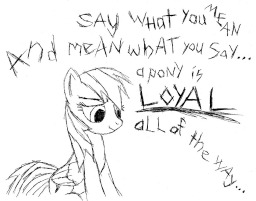 A violent, unexpected thunderstorm wakes Rainbow up in the middle of the night. Unable to do anything about the storm but unable to sleep, she has nothing to do except lay in bed and think. Ponies, Ponyville, her job, her friends, and the differences between Loyalty and Honesty - not all of them always make sense.
A short swim through Rainbow Dash's stream of consciousness.
Rated 'Teen' for language.
Chapters (1)