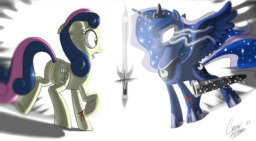 "In every generation there is a chosen one. One mare who will stand against the demons, the monsters and the forces of darkness. She is the Slayer."
Bon-Bon never asked to be a monster-killing secret warrior of the night. It's a lonely life in which she cannot afford to get close to ponies. After previous losses took their toll, she has closed off her heart and dedicated herself to never letting herself love anypony ever again.
Then she is sent to Ponyville.
Then Twilight Sparkle is sent there too.
Then Princess Luna returns from the moon.
Not to mention that darn unicorn neighbour Lyra won't leave her alone.
And suddenly everything becomes much more complicated.
Chapters (12)