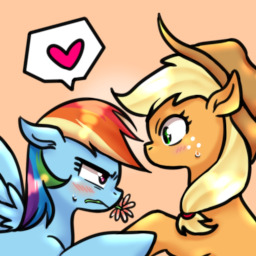 Source
The thing is, sometimes in life there are things you have to do that are hard. Like, way hard. Harder than they should be. Harder than bucking storm clouds someone overfilled with lightning seeds. Harder than pulling off a sonic rainboom in front of a cloud of ponies who don't believe you can do it. Harder than … other hard things. That are hard to do. Yeah.
Shut up.
Like you've ever tried to confess your feelings for a stupid apple-bucking farmpony.

Rainbow Dash narrates her own life. Because you just know she would do that.
Chapters (1)