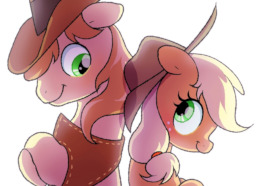 Source
"I heard you two mention the sickness. Nasty business, that."
Applejack set her jaw. "Yeah. It is. Lotta good ponies who did nuthin' wrong sufferin' from it."
"Good? Seriously? Those degenerate colt-cuddlers?" Spoiled Rich chuckled. "Well as far as I'm concerned, it has only one thing going for it – it's killing all the right ponies."
An Apple family member makes angry demands of Princess Twilight in the middle of a personal crisis.
Trigger warnings for HIV, the AIDs Crisis, homophobia and death.
I started writing this back in early 2018. It took me three years to finish because of the subject matter and the fact it's a non-linear narrative. All I ask is that you give it a chance to make sense and it will.
Many thanks to my pre-readers who looked at this in its various stages over the past three years: Clever Hooves, Suni, TheLostNarrator and Neighrator Pony
[EDIT] Wow, this stayed in the feature box from June 29th 2021 to July 3rd 2021! Thank you all!
Chapters (1)