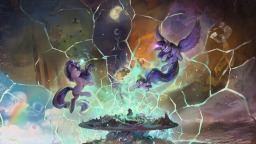 Source
Twilight Sparkle is at her limit.
She has long since dismissed her original objective, forgetting exactly why she is stuck in this alternate timeline in the first place. Her only mission now is to stop the mare in her way— an adversary with uncanny magical strength and indefatigable purpose.
It's time to finish this... once and for all.
---
Cover art by Huussii on Deviantart.
A dark twist on the Season 5 finale.
Proofread by Lightwavers and Level Dasher.
Edited by Dreams of Ponies.
Featured 8/28/17 - 8/31/17!
Chapters (1)