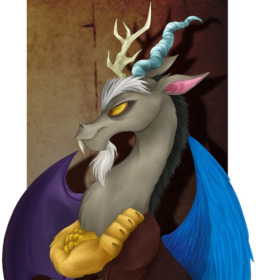 Source
This story is a sequel to A Mad Glimmer
---
The plan had been perfect, taking everything from Twilight Sparkle and trapping her in a no-win situation. Then Twilight showed Starlight the alleged consequences of her actions.
But there's a bit more to the story. Starlight Glimmer has paid a heavy price, but there's one more debt to call in.
After all, Discord doesn't make idle threats.
Story contains spoilers for the Season 5 finale, potentially disturbing imagery, and nuts. Story still does not contain Nikita Khrushchev or shoes.
Chapters (1)