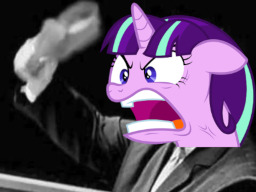 Source
The village had been perfect, free from the inequality and misery rampant throughout the rest of Equestria. Then Twilight Sparkle and her so-called friends arrived and ruined everything.
But all hope is not lost. Starlight Glimmer has a plan to restore her lost utopia on a much vaster scale.
After all, it's not like that purple princess was friends with anything worse.
Story contains spoilers for the Season 5 premiere, nonspecific allusions to torture, and nuts. Story does not contain Nikita Khruschev or shoes.
Chapters (1)