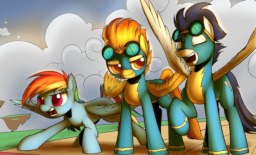 Source
It's time for the Wonderbolts' weekly media roundup. This time around, the newest member has a simple question with a rather complex answer.
An entry in Estee's Ship Sinkers contest. The following story was written solely to fulfill that contest's prompt and does not reflect the author's opinion towards any potential pairings between small cartoon horses. Please think before commenting.
Spoilers for S6E7, "Newbie Dash." Rated Teen for some oblique references to rear orifices and potential uses thereof.
Chapters (1)