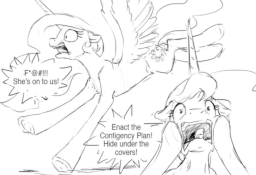 Source
Twilight Sparkle. Magical prodigy. Personal student of Princess Celestia. Bearer of the Element of Magic. Princess of Friendship. Hers is easily one of the greatest destinies in Equestria.
Yes. Definitely. All predetermined. It certainly had nothing to do with any incidents she had early in her personal lessons from Celestia, nor any potent magic the Princess of the Sun kept hidden in plain sight. That would be ridiculous.
An entry in MrNumbers's Prompts and Positivity challenge.
Rated Teen for Lunar language and explicit alcohol consumption.
Chapters (1)