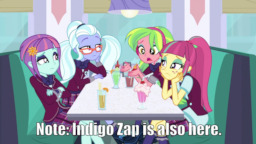 As certain ponies from another world can attest, there's nothing quite like facing down a dark-winged madwoman's fell magics to bring a group together. Of course, it wasn't quite so cut and dry for the Crystal Prep Friendship Games team, not least because their Twilight Sparkle both was said madwoman and left them for greener pastures.
None of them can honestly blame her. Even putting aside all of Twilight's bad memories at Crystal Prep and the better ones she made during the Games, there's one argument that might sway even the most die-hard Shadowbolt: Canterlot High has more hotties in its student body than any of them can shake a stick at.
Especially the one who just walked into the diner where they're having lunch.
So, ladies. Who has first dibs?
Rated T for teenagers being teenagers. Credit to Moproblems Moharmoney for several of the girls' stances on the matter.
Chapters (1)