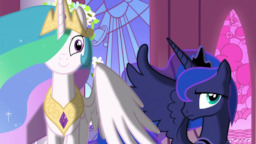 Before she became Nightmare Moon, Luna fought many adversaries who threatened Equestria. And since her return, new and old enemies have appeared with alarming frequency. But the land had peace for a thousand years while Luna was on the moon, and now the princess questions how such a thing could be possible.
Celestia offers her a completely logical and reasonable explanation.
Now with an audiobook by Illya Leonov.
Chapters (1)