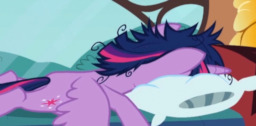 After a particularly nasty run in with a monster during a mission from the map, Twilight discovers that she has apparently gained immortality due to her ascension as an alicorn. With this realization, Twilight and Spike go to visit the Royal Sisters to study immortality and get some advice.
Instead, Twilight finds herself flung into a whirlwind of confusion.
---
Now featuring significantly less errors! Thanks to everyone who pointed those out in the comments, and if you see any more feel free to point them out too.
Written for F*** This Prompt 13, "Immortality makes ponies very emotional."
Chapters (4)