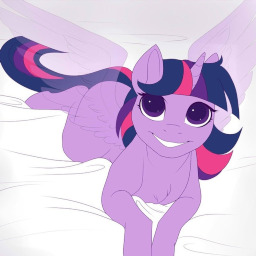 Source
There's a lot of unpleasant surprises that can be found in photo albums. A third pony in what you thought was a private moment, inexpertly applied bodypaint, or just evidence of that time that your mother dressed you up like a burrito.
Twilight Sparkle was expecting to come out of Family Night with a few fresh blushes on her cheeks. What she wasn't expecting was a mysterious pair of wings in her baby pictures.
Hopefully Celestia will have some answers.
---
Many thanks to Present Perfect for supplying the brilliant concept, and to Evehly for the beautiful artwork.
Chapters (1)