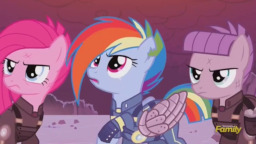 The Crystal War. A battle so long and brutal that it has shaped an entire era of righteous bloodshed. Ponies don't have slumber parties, or read bedtime stories to their foals, or even so much as smile. And when they do smile, it's the kind of smile that would keep ponies of a more peaceful era awake for days.
The madness of Sombra and his slave army claims lives every day. Soldiers in service to Celestia fight tirelessly to hold onto even a shred of what Equestria used to be. Its citizens do everything they can to feed the bloody machine, from canning food to holding funerals.
And at the heart of it all, there stand three mighty warriors. They have lost a great deal to this war, though none of them know just how much. What they do know is that they made promises back home, and they are not in the habit of breaking promises. No matter the cost.
This is the story of Iron Wing and the Demolition Crew.
Chapters (4)