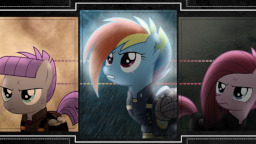 Source
This story is a sequel to Iron Wing and the Demolition Crew
---
Everyone knows the story of the Iron Wing. They all know how fiercely she fought at the battle of Rainbow Falls. Soldiers measure their worth by where they were when she routed Sombra at the gates of Canterlot. Even now, there's a pilgrimage some take that follows her entire campaign.
And anyone who knows anything about the Iron Wing knows about the Demolition Crew. The story of the Crystal Collapse is one fraught with thrills and chills for fillies of all ages, and the closing of the Ghastly Gorge continues to inspire and terrify all who hear of it.
But legends seldom begin as the titans they become. Heroes are not born, but made, through fire and pain and loss. There isn't a pony alive who doesn't know the story of the heroes, but the story of the soldiers who became those heroes is one known only to them.
This is not the story of Iron Wing and the Demolition Crew. This is the story of Rainbow Dash and the Pie sisters.
Chapters (3)