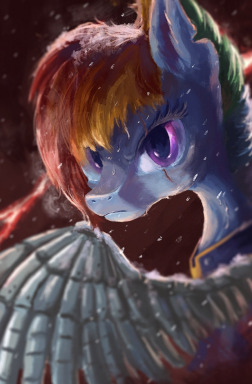 Source
Soldiers don't just stand there, blindly following orders and throwing their lives away. Sure, some of them do, but they aren't the ones who come back. The ones who come back have spent hours, days in the trenches, waiting for that brief moment of terrible and bloody action. And thinking.
You have a lot of time to think, in a hole in the ground waiting to kill or be killed.
There aren't any trenches in the Crystal War. Sombra throws his soldiers in wave after wave at the enemy, and the bodies of those soldiers only rest when there is nothing left to fight and their master is briefly perplexed about where all the squishy targets went. The Equestrians aren't much better, retreating to tents and clouds and once in a glorious while, maybe a cave. But even without the trench, there is time to think.
And when you might die tomorrow, you don't think in silence. You talk. You ask questions.
They aren't all easy questions.
Chapters (1)