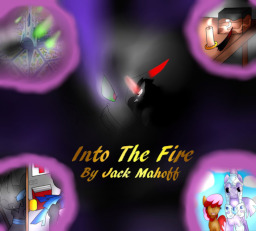 Source
Under the guiding hoof of their newly-crowned monarch, King Sombra, prosperity and love flourish in the lands of the Crystal Empire. With peace spanning half a century, most ponies have forgotten the true terror sleeping behind the forbidden boundaries of the northern wastelands.
However, rumblings of a powerful threat from the borderlands have alerted key ponies in the Empire. The tepid peace between the two nations begins to waver as the embittered changelings prepare for war.
With the kindling in place and the flint struck, the mettle of kings and countryponies are taken to their limits, testing just how far each one is willing to go for their homeland.
---
Foreword: Due to some confusion noted by several people, I will clarify here that this story takes place in the original time of the Crystal Empire (after Discord's original reign but before Nightmare Moon's first iteration.)
Thanks go out to my wonderful editor, nucnik
Preread by Brony Hectic
Additional help from Regocomics
Cover art commission done by the amazing Ryuku the Creative (aka Mytatsur). Be sure to check out his works!
Please leave a rating and a comment! I love to hear from all of you readers out there! If you do dislike it, please give me a reason why. I can use your feedback to improve myself!
Chapters (10)