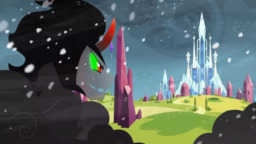 [PLAN TO REWRITE]
A lot can change from one argument. Cozy Glow wanted nothing more but to be somepony else. Anyone else. Instead, she was this little powerless pegasus that did nothing but what her mother demanded... what her mother planned! She was sick of mother's plans. She was sick of her own name! So, the filly took it upon herself to pack her things and run.
She had some family in the Crystal Empire. Perhaps it would do her some good to visit them? Maybe they could understand her issue. Maybe they could help her?
What she didn't know however was that her greatest mistake would be stepping into the Empire itself. After she walked in... she never came back out.
When King Sombra took over and dragged the entire empire along with him down his one thousand year banishment a little filly was caught in the crossfire.
Chapters (8)