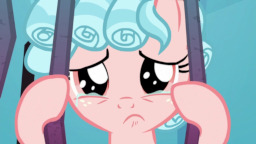 Source
I wasn't the most consistent fan of My Little Pony, in all honesty. In fact that show wasn't the only thing on my list of interests. For a long while I had left those colorful ponies in the dust. I practically missed seasons 7-8 because I had gotten bored. However... it was the last season that drew me back in. I guess I now know a bit about the show, but not everything. I definitely knew of Cozy Glow however. She was hated by everyone. Well, except me. For some reason I liked her as the mischievous little filly she was. Her character interested me and I wanted to learn more. I wanted to see what kind of history she had. Why did she decide to turn evil? She was probably the only reason I went back to previous seasons.
You could guess how disappointed I was when the finale came up. Instead of helping her, they turned her to stone. Instead of trying to figure out the issue, they left her behind to be forgotten. Everyone cheered and laughed while Cozy, Chrysalis, and Tirek were turned into statues for the rest of eternity. I was displeased. Afterwards I drifted away and instead tried to focus on my work. I had to, after all. I was becoming an adult. I was growing up. Though the stress might pile up on me, I had to keep going. I had to get things done...
I could keep going... couldn't I?
It seems however that the universe had decided to drag me back into a world of rainbows and magic. Imagine my surprise when I suddenly woke up the next day inside a cage in the deepest, darkest chambers of Tartarus. Not only that but also as the small pink bundle of feathers that everyone loathed and despised. A billion questions rang through my head but the most prominent ones of all continuously pounded against my skull: What in the holy hell do I do from here?
And how do I stop what comes next?
---
Inspirations:
The Tirek Who Tolerated Me by Kotatsu Neko
&
An Unexpected Aftermath by Autumn Breeze
[Note: This is half a self-insert and half not really. This character is different from me but does have a few traits from me as well. Like cursing, I curse a lot, but there are some traits here and there I don't really have.]
Chapters (9)