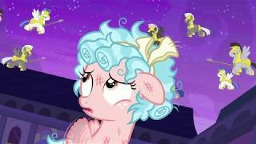 [Spoliers for What Lies Beneath]
Cozy Glow DID have a plan in the works. It was simple and it was easy. All she had to do was get it in every creature's minds that their friendship wasn't natural. A fight would occur, she would lead them all to the Tree, and then they could fix all her problems without her having to raise a hoof! With an excuse at the end~!
That was the plan, but Cozy Glow had decided that instead of them finding the place themselves, she would take them to the grate in person. In the end, she accidentally got herself wrapped up into the dark roots below that waited to see what her fears were... and if she could face them.
For more of the story:
Cozy's Dilemma
Chapters (3)