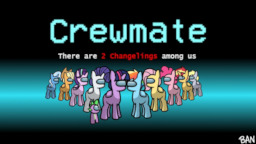 Source
[ Based off of Among Us. Made for fun! ]
Ever since Queen Chrysalis and her changeling army declared war on the Equestrian sector and region, ships began to find changelings raiding their crew by becoming their crewmates. Several ships were either successful in getting rid of the pests or lost to The Hive.
From what many survivors have seen, changelings will nab you when you are alone and wrap you in a cocoon that is practically indestructible, leaving you in a comatose state where they could drain not only your love but your life as well. You weren't dead, but you were considered gone for good. At least until somepony can figure out a way to break them open.
The ponies began figuring out ways to get rid of the suspected changelings. One was shooting them out an airlock when the majority was certain it was them. From what they've seen, many will drop their disguise once out in space to hopefully be found by a Hive ship. If a fellow Crewmate was ejected, they were still able to survive with the help of their oxygen tanks and signal for an Equestrian ship.
It was the only safest option Equestrians really had.
One member in particular, an electrician by the name Derpy Hooves, has gone through this ejection process many times before. Being clumsy and hesitant, she became a suspect for many meetings. She wasn't sure if she should be relieved or horrified because there were a few times where she was ejected and the ship behind her was then lost to The Hive.
They say ejection wasn't good because it could be your demise one day, but maybe it was for her.
Despite everything, she still worked for her Princesses and continued hopping from ship to ship. She wasn't the best at her tasks, but hopefully she was the best at making friends! Maybe, just maybe, her next crewmates will be much more nicer. Maybe even permanent.
As she joined the new crew onto The Skeld a report suddenly appeared. A strange anomaly had been detected.
There are two changelings among us.
Chapters (1)