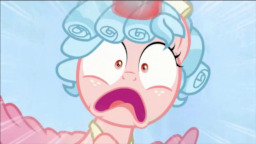 The last few weeks have not been easy.
I'd finally been able to move out of the home I've been living in in the area i've been living in for pretty much my whole life.
The move, setting things up and adapting to my new home's differences and the new location had not been easy.
Still, I'd gladly take that stress over what I'm stuck with now. One moment I'm walking through the city to head back to the house and the next I'm Cozy Glow, hovering between a buffed up Tirek and mutated Chrysalis and it looks like the Rainboom Laser of Death is headed our way.
Oh, and, before we switched places, Cozy somehow became and Alicorn.
What the fuck is going on?!
Was inspired to write this after reading My Life As A Psychopathic Nine Year Old Filly and thought I'd give it a shot, as writing a character stuck as Cozy Glow and dealing with the aftermath of all her shit, especially the finale, would be funny
Featured 19/10/2019.
Wow. Honestly was not expecting that. Thank you, everyone. I will try to do my best to make this story worth that praise.
Chapters (15)