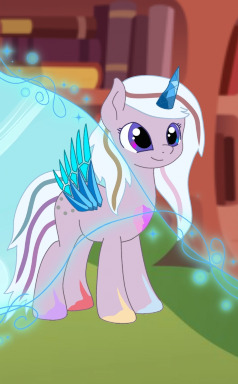 Peter Westmoore, 19 years old. Friends describe him as hard working, but a stick in the mud.
Peter never enjoyed the party scene, not when he could be honing his skills as an animator, nor did he have a taste for alcohol. And what does all that responsibility get him? A quick night terror and being dragged to Equestria. Now he, or rather "she" has to find a way back to his/her world. But the six colors adorning his new equine shape simply keep getting in the way. How will a now stressed college student adapt to the happy go lucky world of ponies, and as a filly no less?
Special thanks to my editors; gerandakis and Jasperr Hart. For going through these chapters and helping me clean them up.
---
Hi, no the story isn't dead, I'm just on the loosest schedule I can manage and still call it a schedule.
Like I've said in previous comments, this stories muse is out for a match of tennis, so it's grinding by very slowly.
On top of that, the most recent chapters don't flow very well with the rest of the story, so here's what I'm thinking;
I'm going to put 'er on hiatus, and go back, do a bit of touch up work on the chapters, bring the whole story in for an overhaul, then continue once it's all cleaned up.
If that doesn't work out, then I'll just have to buckle down and force out the next few chapters, but I think we all know how well that would turn out.
CC~
Chapters (21)