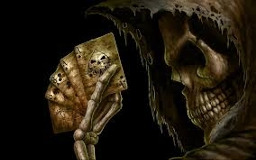 First story ever so please go easy and give helpful criticism where it is needed.
This story is similar to Mort Takes a Holiday in that Gregory will have to collect souls. However any other relation to that story is completely on accident and I apologize deeply. This is just a story that's been sitting in my head for a while waiting to be let out.
Father Gregory, a Priest of Nalarath who is not too favorable of colors in general, is killed. It only gets worse for him from there. Death makes him a deal by taking him on as an apprentice. Now Gregory has to go to Equestria to collect souls for Death. In return, Death will give Gregory the soul of the person who killed him, so that he can personally judge their fate.
Father Gregory is a made up character and any relation to any persons whether real, living, or dead is pure coincidence
I own no rights to the Mort Takes a Holiday story and greatly encourage you to give it a read :)
I also own no rights to MLP or any franchise associated with such.
I have no rights....meh
Chapters (16)