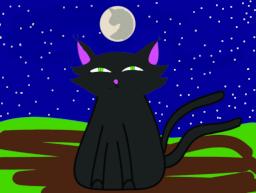 Source
Set in the universe of Chess Game of the Gods.
---
Edit: Hooray! Finally have a decent -if not noobish- coverart. What can I say; I'm all hooves with digital arts programs.
---
The land of Equestria is a strange, wondrous, and dangerous place to outsiders; monsters roam freely, dragons control the skies, and then there's the Celestial Princesses who control the sun and moon. Considering these giants among ponies where do I fit in; a small black cat with bad luck and a few little surprises. It's not surprising I have bad luck here; before I came here I was just going to the doctors for a check-up but find out I have a terminal disease that I've never heard of! Then some raven-haired doctor wearing a suit comes in after hours and offers me a cure... in the form of a new body so hey, silver lining.
---
Rated Teen for swearing and possibly other stuff that I might add if the moment hits me.
***Edit: The tags Gore and Dark have been added, not everything will be gore and dark; they're simply for moments like... Ripping a ghoul's clean off in a spray of black blood or a little girl ghost leading people to be eaten.***
Chapters (4)