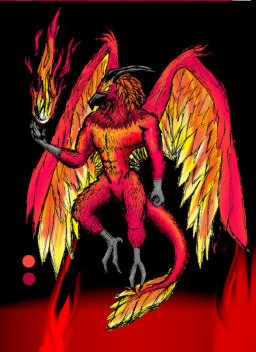 People think that strength comes from many different things: bravery, confidence, protection, spirit, justice. Anything they want it to be. But you can break it down as much as you'd like, it's all the same. Power is the one and only thing to give you strength. And my dream is to be the strongest there is. So imagine my surprise when a red haired woman says she can grant that dream. Now I'm stuck in a world or multi-colored ponies, and I'm no longer human, but an anthromorphic phoenix instead.
I greed for power, to be the most powerful is a burning hunger of mine, one that won't be quenched until it is fulfilled. I won't allow anyone or anything to interfere, beating down those who will get in my way and crush those who stand against me. That is my dream! But to be the most powerful mortal won't satisfy me, I will even aim higher. Once none are left standing against me, it will be GODS who I'll target next until I'm the last standing.
For those who don't catch on quickly, I'm not the good guy in this.
Part of Chess Game of the Gods started by BlackWing and Rust.
Rated teen for mild (maybe won't be so mild. I dunno how I'll play it out) gore and language.
Edited by Thardoc
Approved by: RLYoshi
Barrel-of-fun
7-4
Current picture just a substitute until I can get an artist.
Chapters (3)