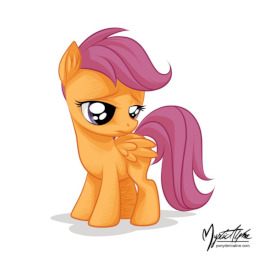 Mike Johns, or Autum Breeze, as he was known online, was your average MLP fanfic writer, in essence, your regular brony, even had all but two of the episodes of MLP season 4 (episode 4 and episode 13). That was his life. Normal and good.
That was, however, until Discord needed him for something and took him to Equestria without asking. Now, without a way home, can Autum learn to accept her new life as Scootaloo?
rated teen for safety
gore for things scootaloo will see in a vision of a possible future
Sex tag for sexual references later on
cover art from here. I do not take credit for the image.
Featured on 23/5/2014
Chapters (5)