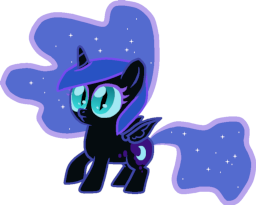 Michael Wilson lived for seven years as a normal, happy boy, until he had to go to the hospital for an operation to save his life. After falling asleep in the operating room, he wakes up in the ruins of a castle. But his location is not the only thing that has changed. He is now a strange horse-like creature with a mane and tail that seem to be made of stars. Just what kind of dream is that sleeping gas giving him?
...
Or is it not a dream at all?
Dark and gore tag for certain chapters. There will be warnings at the beginning of these chapters to let you know which.
Cover art from HERE by ClassicsAreDead
[img]http://th07.deviantart.net/fs71/PRE/i/2013/012/9/e/celestia_stamp_of_approval_by_tiwake-d5rc0la.png[/img]
First Featured 17-20/10/2014 then again 27-28/11/14. And again 24/4/1016.Seriously, thank you, all!
Now with a reading by TripyVox
Also with audio reading by Tarot Duelwield
Chapters (31)