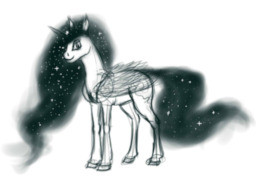 This story is a sequel to Living Nightmare
---
It would be highly advised to read Living Nightmare first, so as to avoid any spoilers.
The story of Stellar Nova was a huge one. first a human boy going into surgery for a brain operation, then becoming the living prison of Nightmare Moon. then Luna's daughter and all the other adventures she had along the way.
But there were questions we never got answered.
Why did The Doctor know Derpy?
Where and who is Dinky's birth father?
How did Blueblood's capture play out?
What were Pinkie's family's reaction to Pinkamena?
How did Blueblood and Trixie end up together?
Did ponies ever live on the moon?
All these questions and more will be answered in these side stories taking placing during, before and within the Living Nightmare universe.
Note: This is note a crossover with Doctor Who, even though The Doctor does have roles in some of the stories or the Crossover tag. I just wasn't allowed to upload this without said tag.
Cover art given to me by Tulip
Chapters (18)