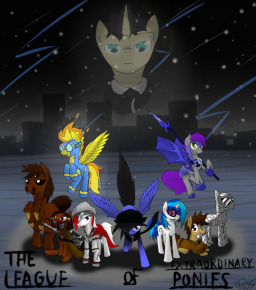 Source
Kingdoms come and go, civilizations wither and die, and time delivers us all to the same end. History has shown this is often the case, but there are always those who seek to prevent this by any means possible.
Equestria has existed for more than a thousand years having faced civil wars, secret invasions, alien threats and the wrath of gods. After several recent attacks on the country, faith in the monarchy has fallen to an all-time low. On top of that, an ancient enemy threatens to not only destroy Equestria, but the entire planet as well. It would normally be up to the elements of Harmony to prevent certain destruction. But what if the threat was something that threatened to undermine the monarchy if its existence was known, even by the elements?
There is only one option, a new team must be formed, a league if you will.
The powerful, the odd and the downright bizarre are called together to prevent a catastrophe that doesn't just threaten Equestria, but the entire world. At the same time, they must prevent a thousand year old lie from being uncovered that threatens to destroy Equestria from it's very core. Can a group of such volatile individuals coexist? Or will their inability to trust each other lead to the downfall of all?
Cover art created by The Maiah.
Guardian the Arachnapony was created by RaijingtheClockworkPony
I would like to thank Maximus_Reborn, Eagle Heart, Raijing and anyone else I asked to look over this before its publication. Your feedback and support has been greatly appreciated.
Chapters (13)