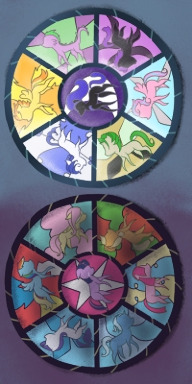 What is a Moral Event Horizon, really? Where is the bar set? Is it really a Point of No Return?
The Elements of Harmony are scattered, broken, or dead. The enemies of daylight are powerful, strongly connected...Friends. But there is hope. Trixie has created a spell that can bring their dead friends from another world, giving the Elements a chance to save this one...Before Queen Nyx goes too far.
Contains TrixieJack and some unrequited TwiPie. Based on Past Sins, created with Pen Stroke's permission. Art created for this fic, by BB.
Chapters (13)