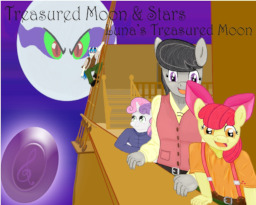 After a terrible Civil War that segregated the three pony races, the galaxy became a terrible place. Earth Ponies and Hybrids (mixed ponies) are seen as dung under the hooves of the aristocrats. But after thirty years of turmoil ponies wanted it all to stop. But no side dares to back down. One day a princess was born that rocked the entire planet of Canterlot and the surrounding Equestrian Galaxy: an earth pony hybrid princess.
Sixteen years after her birth, Princess Octavia was always protected by her unicorn parents but that changed during her sixteenth birthday when the ship her family was on was attacked by pirates. A young thief by the name of Vinyl Scratch rescues Octavia from the blades of her attackers. Who'd ever thought that this meeting will change their lives forever?
Vinyl had dreams of becoming a rich merchant as Octavia dreams of bringing her people back from segregation. But how can these two fulfill their dreams when evil pirates, assassins, and aristocrats try to stop them at every turn? Adventure and treasure meet their sights as these two mares meet a college professor and her assistant with a clue that will lead them to the greatest legendary treasure of all time. They must find the legendary Luna's Treasured Moon where Luna's treasure rests, and the rumored burial ground of the Princess Explorer. But the only key to get there is Octavia's necklace, The Luna's Tear.
---
(This is a crossover between Treasure Planet, Castle in the Sky, and Ponies. It's not really a crossover but you'll recognize themes from both of these movies in the story.)
Jan. 4th, 2014 - Feb. 9th, 2014: TMS 1 has been edited.
Edited by Xhoral1865
March 4th, 2014: Replaced old Cover art with a new one. Drawn and painted by me. Hope you guys like it.
October 11th, 2014: TMS 1 turns 1 year old. I drew up a new cover art in celebration.
Chapters (23)