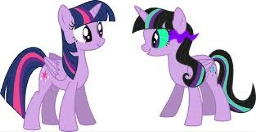 Source
[I only know so much about the OC Twivine.This is the one who created her. Rating will either change to M or the next installment will be an M story. Tags added as I need them.]
Emerald Morrison didn't have the best life, but certainly not the worst. She didn't have the best grades, but also not the worst. But now? Now she finds herself as Twivine, an OC made by another brony. Problem is, she has no idea who Twivine is. She heard of Twivine, seen one or two fan made pictures but that's about it.
Somehow Twilight's magic surge brought Emerald or rather Twivine to Equestria and now she grows up (again), only this time in the Sparkle household.
08/29/2015 Featured? Thanks. Sure hope this isn't because of a short raise in the amount of views.
Chapters (9)