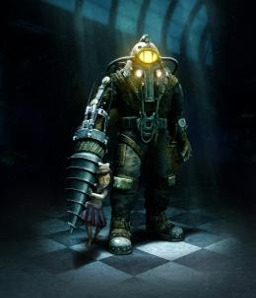 Subject Delta, an Alpha Series Big Daddy, has been through a lot in his life. But this is his last stand, he and his Daughter Eleanor are going to escape from Rapture. The Pairbonding destroyed, his body tired from all the fighting ... Subject Delta won't live to see the world beyond Rapture. The ending coming near, he finds himself escaping Rapture ... to only awake in a stranger place. Will Equestria be able to handle Subject Delta?
--Crossover with BioShock 2--
Author's Note: First, criticism is highly appreciated. Second, this isn't my first fanfic rodeo, but it's the first time in English. Errors will ensue, so feel free to correct me! Third, I hope you enjoy the story!
Copyright: My Little Pony: Friendship is Magic (Hasbro), BioShock 2 (2K Games), Cover Image (The BioShock Wiki).
Tags: Crossover, Alternate Universe, Human, Dark. --Will be updated--
Characters: Subject Delta, Eleanor Lamb, Sofia Lamb, The Family, Twilight Sparkle, Spike, Rarity, Applejack, Rainbow Dash, Fluttershy, Pinkie Pie, Princess Celestia, Princess Luna, Augustus Sinclair, Yi Suchong, Andrew Ryan, Shadow Stalker. --Will be updated--
Chapters (10)