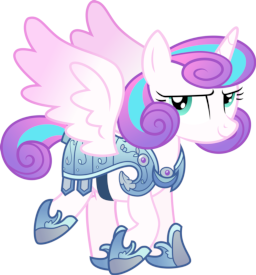 Our story starts with: 'Darach Meldrak Obenhjerthe' The first of his name, clansman of the Meldrak household, and bringer of pointless observations and nitpicks In general.
Specifically it starts with the end of his life, at the hands or rather hooves, of his own horse as it accidentally tramples him to death after getting startled by a snake.
Darach had abandoned his religious ways back during the war, so when he died he expected nothing more than the cold void of nothingness, perhaps the pyres of damnation if he was unlucky.
What he got was quite a bit different from his expectations.
Reborn into the body of a small, winged unicorn, he has to make sense of his new life as a small pink princess, and try not to disturb his new parents too much with his strange personality.
Chapters (2)