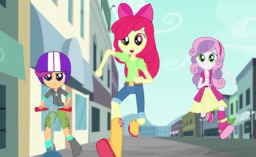 This story is a sequel to An Apple a Day
---
Life rolls onwards in Canterlot, and Apple Bloom is excited to be a part of this. However, when strange occurences start rocking the town, and new friends arrive through the portal, Bloom and her friends will have to be on their guard like never before.
Part of the Canterlot Adventures universe: https://www.fimfiction.net/group/214042/canterlot-adventures
Currently on hiatus due to internal issues with the group.
Chapters (5)