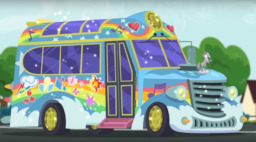 Big Mac is an ordinary country boy. Even though his little sister gained magical super powers, he's managed to stay out of most of the weirdness. But things go pear-shaped after he starts spending more time with his physics teacher, Dr. Discord. Thanks to Dr. Discord's time machine, Big Mac becomes stranded in the year 1993, and that's not even the strangest part.
No, the strangest part is that his mom keeps flirting with him.
Written for FanOfMostEverything's Villain Exchange Program contest.
Chapters (4)