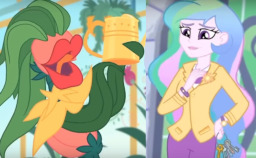 Gardening used to be a simple hobby in the human world before Equestrian magic complicated things. Principal Celestia finds herself faced with a problem no amateur botanist should have to confront: singing plants. Luckily, the mirror portal offers easy access to one of the best magical horticulturalists in the multiverse – one with more than a century of experience, who is not about to let herself be outsmarted by a bunch of overgrown weeds.
Written for Aragon's Comedy (Is Serious Business) Contest with the prompt We Learned Something Botanical. An alternate take on the Equestria Girls short "My Little Shop of Horrors," set in the Oversaturated world.
Reading Oversaturation is helpful for context, but not necessary to understand this story.
Rated T for some "adult" references, just to be safe.
Chapters (1)