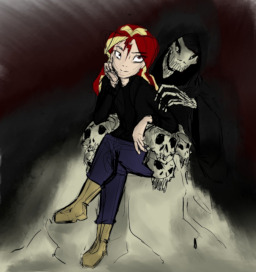 Source
Sunset Shimmer has always been a hot-headed, impetuous girl. She's always been prone to making snap decisions, and later finding herself regretting them. It was exactly this temperament that had brought her to the human world, penniless and alone. When the opportunity to get back on her feet presented itself in the form of a stranger's outstretched hand, she leaped at the chance.
This is the story of a woman who has made many bad choices, and the life those choices have made for her.
---
Tags, and even rating, may change as the story goes on.
Thanks as usual to Magello for the cover art!
Chapters (13)