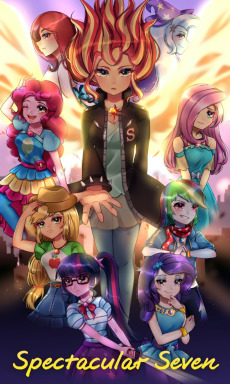 This story is a sequel to Long Road to Friendship
---
It is a new year for Sunset Shimmer; a fresh chance at real happiness with her five best friends and her girlfriend. But Sunset is constantly troubled by her uncertain future, and haunted by the consequences of her past.
For her battle against Princess Twilight has drawn forth ancient forces with eyes on the last bastion of magic: Canterlot City.
As darkness closes in, Sunset must find her light and guide her friends to defend their world against old rivals and legends best left forgotten, all while dealing with their ever-looming futures.
But when graduation comes, what will Sunset Shimmer do? For she is still a stranger in this world, with or without her friends, and the road before her guarantees nothing.
Of course, with the universe conspiring against her, it'll be a miracle if she even makes it that far...
---
Story plot edited by HenryAnthonyCourtler
Pre-read by DrakeyC
Wonderful cover art designed by HanasakiYunarin!
Text added by Amber Spark!
The page of Spectacular Tropes!
Presenting the French translation!
Chapters (73)