Main
(555 items) (3 sub folders)
Recommended
(0 items)
Writing Contests
(22 items) (3 sub folders)
Adventure
(77 items)
Anthro
(20 items)
Tragedy
(56 items)
Friend-Shipping
(55 items)
Gender Swapped
(15 items)
Getting Married
(10 items)
Having Foals
(17 items)
Love Triangles
(38 items)
Multi-Ship Projects
(15 items)
Polyamory
(11 items)
When They Were Young
(10 items)
Comedic Fluff
(23 items)
Flutterdash as a Background Pairing
(47 items)
Humans
(85 items) (3 sub folders)
Clopfics (NSFW)
(81 items)
Similar Groups
Newest Members
Welcome to the Flutterdash group, where everything is butterflies and rainbows!
We're an active and growing shipping community centered around all things FlutterDash. We aim to provide a safe and friendly environment for people to discuss and share anything and everything related to our favorite pairing.
---
Featured Weekly Story:
by SamRose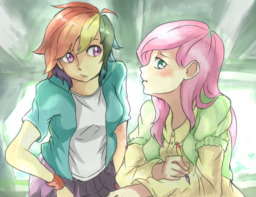 Rating - Teen
Status - Complete (13,194 Words)
Tags - Drama, Romance, Equestria Girls, Sad
Description -
Rainbow Dash and Fluttershy are best friends. They have been best friends for as long as they could remember.

But something happened one day. Something that made Rainbow Dash realize just how important Fluttershy really was to her.
- Sixteenth Entry to the Third Flutterdash Group Contest.
Featured weekly story changes every Sunday.
---
FlutterDash group guidelines
This is a group for stories involving Fluttershy and Rainbow Dash having romantic feelings for one another, or for stories about the two of them being especially close friends.
This is a safe for work (SFW) group. Please do not link to any external not-safe for work (NSFW) posts, links, or images. Mature stories located on FIMFiction are allowed in the group folders, and may be linked to in the forums so long as it is noted that they are NSFW.
Be polite! Kindness is a virtue. You don't want to make Fluttershy cry, do you?
If you have any questions, comments, concerns, insults, or see something you believe to be a violation of the group or site rules, please contact an admin. The current FlutterDash admins are:
EverHopeful
---
Group folders
All stories focused on Fluttershy and Rainbow Dash in a romantic relationship with each other should be added to the Main folder, in addition to the appropriate group folders.
Stories which are exclusively pornographic in nature should be added to the Clopfic folder, and not to the main folder.
Friendshipping stories - stories about Fluttershy and Rainbow Dash being especially close friends - should be added to the Friendshipping folder, but not to the main FlutterDash folder. If a story is ambiguous as to whether there are romantic feelings between the pair, feel free to add it to both.
Stories which contain FlutterDash as a background pairing, but not as a major focus of the story, should be added to the Flutterdash as a Background Pairing folder, but not to the main folder.
Short story collections which contain FlutterDash stories along with other stories should be added to the Multi-Ship Projects folder. Only add the collection to the main folder if it is a major focus of the story collection.
---
We hope you enjoy your time here!