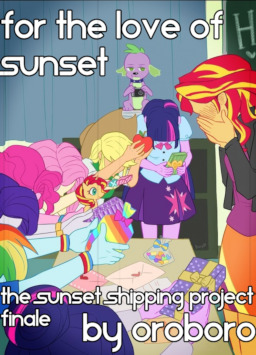 Source
This story is a sequel to A Sunlit Journey
---
Alternate worlds. Infinite possibility. Someone's life could have gone a thousand different ways, fall in love a thousand times with a thousand different people.
When a simple demonstration of portal technology goes catastrophically wrong, Sunset finds herself stuffed full of the memories of her alternate counterparts.
Memories of being in love with all of her friends.
---
While every other story in the Sunset Shipping Project so far has been designed to be accessible as a standalone one shot, this story is explicitly a sequel to all of them. You can find them all here.
Chapters (1)